No pun intended.  Promise.
If you've been following along, you know I've been busy re-publishing my previously released novels from Penguin-Putnam (via Onyx and Signet paperback imprints). as ebooks.  They tossed the rights under the bus with me, and I'm happily taking them forward into the brave new world of digital publishing to see what happens. 
I didn't have Storyfix then.  Or "Story Engineering."  I do now.  I have friends in digital places.
And, I'm changing the cover of the most commercially successful of those books — Darkness Bound, my USA Today bestseller.
The original cover of the paperback published in 2000 was hot.  Kinky.  A model with her hands tied together with a scarf, and a veiled pose that said she was liking it. 
I had nothing to do with that.  Zero input. 
That said, it worked.  It was somewhat reflective of the content, and it was totally a strategic choice.  Thankfully the reviews were solid, so the book took off out of the chute, due in no small part to a pretty procative radio campaign.  Here's what that cover looked like back then (you can still get it, used, via Amazon):
So why not keep it?  Why not use it again for the ebook?
Because it says the wrong thing. 
Entirely because of the cover, the major bookclubs (Literary Guild, Doubleday and BOTM, all of which selected it) categorized "Darkiness Bound" as erotica (which, by the way, I'm not dissing here, it's just that DB isn't erotica).  This is like showing up at a bar wearing a leather dress and immediately being arrested as a hooker. 
Friends and family struggled with that cover.  Readers looked down judgmental noses at signings.  One independent bookstore owner in Tucson practically threw me out of her store when I dropped in to sign the stock.  Pariah.  Perv.  Pornographer.
All because of the cover.  But… here's what Publishers Weekly said about the cover in it's review:
Teasingly erotic, Brooks's first novel is that rarest of sexual thrillers, in which the sex isn't gratuitous but a convincing means to an end. Unfortunately, the book's erotic cover may cause horror/thriller fans to overlook this title on the bookshelf.
Cut to ten years later.  To that whole new ballgame. 
When I decided to re-publish it as an ebook,  I wanted sexy — the book is dark and sexy — but I also wanted something my sister wouldn't be embarrassed to recommend to her friends.  Because, while hot and steamy and darkly romantic, it's not erotica… it's just wildly erotic in a subconsious fantasy sort of way — the most erotic realm there is, if you ask me — rather than in a sweaty nude people sort of way.  Big diff.
So I bought a stock cover design for ten bucks.  True story (is this the Big Time, or what?).   Had the designer slap on a title and my name.  But it wasn't saying it, and I wasn't feeling it.  Too gothic (candles and medieval typeface) and therefore misleading.  
It needed more… juice.  It needed mystery, a delicious promise, a sense of forbidden compulson and taboo fantasy. 
Just like the novel.
So here's the new cover, already in place on all the venues.  I found the image on Flickr, hired Colin Dunbar to make it sizzle… and here's the outcome:
That's more like it. 
Don't take your ebook cover lightly.  It's the centerpiece of your marketing, and it's your best shot at convincing a reader to opt-in.  That and some good reviews and word-of-mouth…  who knows what might happen. 
Just republished my novel "Pressure Points" today — changed the title of that one to: "The Seminar."  A mind-bending psychological thrller that takes the self-help industry and twists it in sinister directions.  If  you've ever been to one of those workshops, you'll relate.  Here's the cover for it: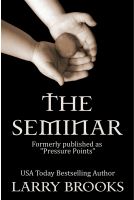 Also ten bucks, by the way.  (Not the book, which is $2.99… the cover art.  Amazing.)
All my re-published novels are now available as downloadable ebooks at Kindle, Smashwords, Nook and (soon) the Apple Bookstore.