"Some of the best things to possibly do with a manuscript that anyone's ever suggested." *
A message for writers who are searching for more than workshop rhetoric and lit-class jargon:
Novels and screenplays that don't sell
often have one thing in common.
And it's not bad writing.
Are you guilty of it in your story?
Do you even know what it is?
Writing a solid, compelling story can be astoundingly hard.
Actually selling one can seem like an unachieveable dream.
Here's some tough questions that explain why.
Ever notice how storytelling wisdom seems to come in small, seemingly unrelated chunks of aesthetic opinion?
How it almost never addresses the big picture of storytelling?
Do you ever wonder what published authors know that you don't? Especially when, after reading their work, you're confident you actually write as well as they do?
Possibly even better?
Maybe it's your storytelling.
Ever wonder what comes next in your story, and why?
Are you even aware that there's a right way and a wrong
way to layer and sequence a compelling story?
That context needs to change as it goes along?
And that if you're doing it wrong, just making it all up as you go (or maybe imitating the latest bestseller), you'll probably
never sell what you write?
That bestselling author already knows this stuff. Do you?
Wouldn't it be something close to a miracle if someone could finally show it to you? Without all the rhetoric and theory?
Well, it's not a miracle at all.
It's a new ebook from a bestselling author and the creator of one of the hottest writing sites
on the internet.
And it's available now.
"Story Structure – Demystified"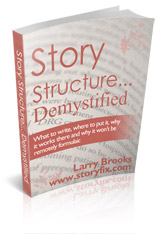 "What to write, where to put it, why it works there, and why none of it will be remotely formulaic."
An ebook by bestselling author and writing coach
Larry Brooks
"I just finished reading your book and I LOVED IT! More than loved it. It has put everything I've read and learned over the years into great perspective. It has shown me the missing elements of all the fiction classes and workshops I've taken. Most importantly and best of all? It showed me what my first novel needs in order to avoid being yet another writing project I don't finish. 
You have changed my life in 127 pages. Wow."
–Jennifer Blanchard
www.procrastinatingwriters.com, 10-29-09
---
Ready to dig in? Save time and order now.
"Story Structure – Demystified" is only $14.95.
Not yet? Then keep reading. Because if you don't yet understand or value structure in your stories…you will.
---
A Few Words From the Author
Dear fellow writer –
Truth is, I much prefer writing novels and ebooks and posts for my website than I do these sales letters. But it comes with the territory, so here I am again.
I'm willing to do it because this is material you absolutely need to wrap your head around. That is, if you're serious about selling your novel or screenplay.
As a writing teacher and workshop facilitator, I'd be happy to point you toward other books that cover the subject of story structure just as well, or even close.
But they're not out there. That's why I wrote this one.
I want to impress upon you the importance of understanding the mechanics of solid structure in a story. Because you don't stand a chance until you do.
Professionals make it look easy, but once you know what's involved, you'll see that it isn't remotely close to easy. Nor is it remotely random.
If it was simple everyone would be doing it. But ask yourself…how many writers, good ones, do you actually know? Now ask, how many of those have published?
Thought so. This ebook is designed to separate you from that crowd.
I've written a book that can take you closer to your dream of publishing a novel or selling a screenplay.
It's called "Story Structure – Demystified," and it does just what the title promises. Perhaps more clearly than you've ever seen it presented before.
Why should you read it? Two reasons.
First, nobody out there is really even talking about this stuff. At least not for novelists. You can go to writing workshops and conferences for decades and never really hear it presented this clearly, if at all.
Character, yes. How to find an agent, sure. Structure…not so much.
I know this is true because people who attend my workshops and read the posts on my site tell me that's the case. All the time, in fact.
Secondly, for many writers story structure is the overwhelmingly missing or misued ingredient that blocks the path to publication. Even writers with elegant and edgy prose and whose concepts are conceptually powerful and compelling.
You may think your story idea has inherent potential.
But it won't work until you bring story structure to it.
You may think your story already has structure. But does it really?
Maybe the structure you're making-up-as-you-go-along is the very reason nobody wants to publish it. Killer concept and all. Fact is, a great idea isn't enough.
Story structure is the effective execution of a great idea.
Trouble is, many writers hang their hat on their concept and/or their characters. But however wonderful they may be, they won't fly without a structure that gives it wings.
A lack of proper structure is the number one reason why most stories fail.
Here's a little secret that may rock your writing world: agents and publishers aren't looking for the next great writing voice.
They're looking for the next great story.
Big difference. And you won't write that story until you wrap your head around the proven and accepted – even expected – principles of story structure.
I asked it earlier, and I'll ask it again here: do you know what they are?
That's what this ebook delivers. In great detail, with clarity, relevant examples and been-there-done-that empathy.
"I'm thinking Larry Brooks should be canonized as the patron saint of writers. I consider "Story Structure – Demystified" THE most valuable book on writing a novel that I own and I have a lot. The blog series is great – the book is superlative."
– a Storyfix.com subscriber
---
Ready yet? Save time and order now.
"Story Structure – Demystified" is only $14.95.
If not, there's more. Read on to learn what the book says, why it works, and what readers are saying about it.
---
In "Story Structure – Demystified"
you'll learn…
…why structure is necessary, and how the lack of it will sabotage you.
…how to use your understanding of story structure to plan your story ahead of time…or, if you're an organic writer, how to use it to organize and empower your thinking so that you get it right the first time, rather than requiring multiple drafts to find it.
…the Big Picture of story structure, and how to understand and apply each of the specific elements within it.
…an in-depth look at the four major parts of a story.
…how to hook the reader early and keep them engaged and emotionally invested right to the end.
…how and when to imbue your characters with depth, complexity and nuance, and how to evolve your hero over the arc of the story.
…how and when to use foreshadowing, and why it works.
…how and when to launch your hero's journey in the story.
…how to craft the most important moment in your story, and know where it goes.
…how to manage and achieve optimal pacing using story points, milestones, plot twists, lulls and pinch points.
…how to use context as a powerful and necessary dramatic tool.
…to understand what kind of scene to write for the part of the story in which it appears.
…how to juice your story through mission-driven story architecture.
…all about the most important elements of story, which are too often undervalued or misused, and sometimes even overlooked.
…how to fuse the essential six core competencies of storytelling into a dramatic sum that exceeds the parts.
…how to recognize old belief systems about storytelling that are no longer applicable in today's literary marketplace.
…to apply and manipulate structural principles to the needs of your specific story.
…what agents and publishers expect in the way of structure, and how to avoid the common mistakes that result in rejection slips.
…and a whole lot more.
This book is 127 pages of densely-packed information, written in a lively style that might make your creative writing teacher change professions. But then, your creative writing teacher was a lit major, not a bestselling novelist.
This isn't about old rules and formulaic storytelling. It's about understanding and applying the proven principles of dramatic narrative to give readers an experience they'll value and remember.
In other words…writing stories that work.
Which leads to writing stories that sell.
Thanks for reading this far. By now you already know that you want this, that you and your dream need this information.
So here's another one of those tough questions:
What are you waiting for?
The information you need to finally get published is right here. It's about 60 seconds away, in fact.
"True, 'Story Structure – Demystified' is full of fresh, solid guidance, craft essentials, and real-life advice from a seasoned pro. But Larry Brooks' writing is so hugely entertaining, I would have read it cover to cover if I were a car mechanic."
— Deb Caletti
   Bestselling YA author
   National Book Awards Finalist
About the Author, Larry Brooks:
I've published four critically-acclaimed bestsellers with a major NY house. My first novel, Darkness Bound, was a USA Today bestseller during its first three weeks of release. My novel Bait and Switch received a starred review from Publishers Weekly, who also named it their Editor's Choice for July 2004.
That book was later named as the lead entry in Publishers Weekly's "Best Books of 2004 – Mass Market."
I'm an eight-time quarter finalist, semifinalist or finalist in the prestigious Nicholl Fellowships in Screenwriting, put on by the Academy of Motion Picture Arts and Sciences.
In 2002, one of my scripts was named a finalist in that competition, placing in the top 10 out of 6044 submissions.
I've been teaching writing workshops around the country for the past two decades.
My website, www.storyfix.com, has emerged as one of the richest and fastest-growing writing resources on the internet.
"This is probably the clearest, cleanest, most practical piece of advice I have ever read. It is tangible and pivotal. Thank you."
– Storyfix.com subscriber
Go to Storyfix.com for more. You can even subscribe right here, at the end of this letter.
*What readers are saying about my approach to Story Structure:
(*All comments shown have been submitted to Storyfix.com by actual readers in reference to posts about story structure or specifically about this new ebook, without solicitation or editing; sources available upon request.)
Excellent series! I only wish someone had laid it out this plainly before, instead of making it all seem like some sort of secret, mystic art that you had to be born knowing.
OMG this is SOME good revelation! Thanks!!! I always think my story is one with too many layers; thinking it can't be written well but after reading this bit I am feeling MOST encouraged…
You've got a remarkable way of explaining this in a context that I can understand.
Thanks for the inspiring posts. Its very refreshing to hear someone waxing eloquent on the need for boundaries, as opposed to the wild free-for-al I see too often.
Larry….you are wonderful! I have been looking for this type of in depth leadership and explanation for years! I am plowing through these lessons like a sprinter in the 400 meter relay. I am going to pass your site on to others. Keep giving us this great advice! Bless you!
Just read thru everything twice. Learned more than in any course, seminar, etc. ever! So grateful!
I didn't want to miss any portion of that series. I thought it was THAT good.
Larry, this is probably the most informative and educational series of blogs I've read anywhere.
You've stuffed several books-full of information into a Reader's Digest condensed version that's easy to understand, follow, and implement.
It's hard to believe, that after all those years of studying the novel in college and all the thousands of books I've read, that this structure has never jumped out at me.
This is writing advice way beyond "The Secret". This is THE SECRET!
I'm hoping folk will be soon be quoting you online as often as they do Strunk and King. Solid, easy to read wisdom, yet again.
Ah Larry, this is good meaty stuff. It's telling me what my shelves of writing books never did.
This is amazing. I can only wonder where many of us would've been 10 years ago (give or take…) with your clear guidance and great instruction.
Just wanted to say that you have an amazing site here. This little nugget of gold has opened doors to writing that would've taken me years to open myself.
Yeah…it's that good.
Are you ready to take your writing to the next level?
"Story Structure – Demystified" is
available now for only…
$14.95
It's a killer value, and it's guaranteed.
Just CLICK HERE and you'll be directed to page where you can enter your email address and credit card information (or, you can use Paypal).
ORDER YOUR COPY NOW ! ! !
My Guarantee
If you don't like what you see, if you don't feel this ebook delivers significant value or that I've oversold it in any way, I'll refund your money. Quickly.
I wish you well in your writing journey.
Thanks for considering "Story Structure – Demystified."
Larry Brooks
November 2009
Larry Brooks
"The Storyfixer"
Contact me at storyfixer@gmail.com
---
Check out Larry's other ebook:
"101 Slightly Unpredictable Tips for
Novelists and Screenwriters"
CLICK HERE for more information
---
Subscribe to Storyfix.com here:
You'll receive almost-daily updates that will take you deeper into the infrastructure and architecture of telling successful stories.
It's like having a live-in writing trainer.
But without the gym shorts.