The bestselling writing craft book, from Writer's Digest Books:
What readers are saying about "Story Engineering"…
"If you've been searching for an accessible, well-reasoned explanation of how the story building process works, look no further. Here is the roadmap you need to understanding the craft of writing." —Terry Brooks, author of more than twenty five bestselling novels including The Sword of Shannara
"Story Engineering is a master class in novel writing. Reading it is like getting an MFA, without the pesky admissions process or student loans. This book will make you smarter about the craft. Period." —Chelsea Cain, New York Times Bestselling author of Heartsick, Sweetheart, and Evil at Heart

"Larry Brooks's Story Engineering is a brilliant instructional manual for fiction writers that covers what the author calls the `Six Competencies of Successful Storytelling.' The author presents a story telling model that keeps the writer focused on creating a dynamic living and breathing story form concept to the `beat sheet' plan, through story structure and writings scenes. It's a wonderful guide for the beginner and a great refresher for the pro. I guarantee this book will give you new ways to fire up your creativity." — Jim Frey, author of How to Write a Damn Good Novel

"A useful guide explaining how to transfer screenwriting techniques to the craft of novel-writing. Good for screenwriters, too, summarizing the essence of entertaining commercial storytelling with great clarity." —Christopher Vogler, author of The Writer's Journey: Mythic Structure for Writers

"Larry Brooks' groundbreaking book offers both novelists and screenwriters a model for storytelling that is nothing short of brilliant in its simplicity, its depth, its originality and its universality. Following his unique process is guaranteed to elevate your writing to the highest professional level." — Michael Hauge, author of Writing Screenplays That Sell, and Selling Your Story in 60 Seconds
Order the trade paperback from Amazon.com, or from your favorite bookstore.
Or online… click for Kindle… or Nook.
Scroll down for more craft books from Larry.  But first…
 ____________________________________________________________
THE NOVELS OF LARRY BROOKS
"Psychological thrillers with a dark, edgy take on relationships."
Currently available on Kindle (click on titles):
(the USA Today Bestseller)
(the critically-acclaimed hit, orignally published as Pressure Points)
(Publishers Weekly starred review, Best Books of 2004)
Here are the covers from the original Penguin Putnam/Onyx/Signet editions:
Click on a cover for PW and reader reviews.
*****
My most recent novel, from Sons of Liberty Press (also available on Kindle and Nook):
Winner of the 2010 Next Generation Indie Book Award – "Best Thriller"
Check out this novel's website HERE.
See the Youtube video trailer HERE.
______________________________________________________________________
My Selection of Craft eBooks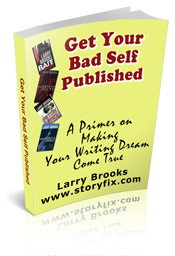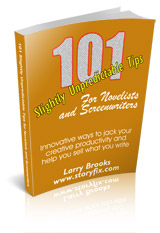 And, two ebooks that are part of "Story Engineering," but are available directly from me as downloadable PDF files, at $2.99 each:
Story Structure – Demystified
The Three Dimensions of Character
To order, send $2.99 per book via Paypal to: storyfixer@gmail.com