(APOLOGIES for the mis-directed links in the prior edition of this post.  Should be fixed now.  Thanks for your patience. L.)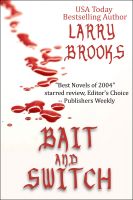 No, I'm not Barbara Ehrenreich, who wrote a bestseller by the same name.  While we are often confused, we look nothing alike and quickly return each other's mail.
My fourth novel, "Bait and Switch," was originally published in 2004 by Signet, a division of Pengiun-Putnam.  Before they threw me under the bus.  I've just re-released it as a digital book, and here are ten reasons you might want to consider it:
10.      Sex, private jets, spoiled billionaires and a hero who can't be bought.  A truly vicarious reading experience, if you have a pulse.  No penis required, this is a book for everyone who likes thrillers.  And sex.  And private jets.
9.        Publishers Weekly can't be that far off the mark.  Starred review, lead Editors choice, lead entry in their "Best Books of 2004 – Mass Market" list.  Not that much has changed, except everybody uses smartphones these days.
8.        The book also made PW's "Best Overlooked Books of 2004" list, the only paperback so-honored (honored?).  This is your chance to help right the wrongs of a fickle marketplace.
7.        Did I mention it is only 99 cents?  Kind of a no-brainer if you like this type of story.  Think Nelson Demille meets Vince Flynn, with a hint of Stuart Woods. 
6.        Here's a new one: I'll guarantee your satisfaction.  Literally.  I'll send you a buck if you don't feel you got more than your 99 cents worth.  Or if you simply don't like the story or the writing.  I have nine dollars set aside for this contingency.
5.        Mass market paperbacks are not widely reviewed.  Had this been a hardcover, it would have been a contender for all the usual Bestseller lists.  That's not me talking trash, that's my editor at Penguin Putnam, who got outvoted when that decision was made.  He's now working at Amazon.com.
4.        This is one of the first re-released novels by a proven bestselling author who has had the rights reverted to them.  Which means, it just might be a cut above the usual digital fare.  Just sayin'. This book has never seen a rejection slip.
3.        It did sell about 40,000 copies, in case you're thinking it tanked.  It didn't.
2.        As a test tube baby in the emerging minefield of digital marketing, this book brings proven chops, and it'll be interesting to see if quality trumps the scope of one's Tweet universe in the race for a spot in the Amazon KindleTop 100.  Let's hope that's the case.
And the #1 reason to buy the digital Version of Larry Brooks' "Bait and Switch" for just 99 cents…
One word – DECONSTRUCTION.  If I reach my goal of 1000 copies sold in July, I'll do a major deconstruction and analysis of the book here on Storyfix.  I've done them before so you know how illuminating these things can be, but you've never seen one done from the author's point of view.  We'll be going deep and wide, tearing the cover off the creative process to expose the Matrix-like skeleton of dramatic forces that makes this story — and any effective novel or screenplay — effective.
This is about walking the walk along with all this story architecture talk.  Reading is believing. 
Click HERE to go to the Kindle page, where you can read reviews and, ahem, buy the book.  The price goes to $2.99 on August 1, when my other novels (in addition to "Whisper of the Seventh Thunder," which is already available as a digital download) will also become available at that price. 
Or, buy it on Nook here.  Or again, buy it Smashwords HERE .
Click HERE to read the post that rolled out this promotion, which includes more background on the book and the goals of this project.
Thanks for  your time.  I hope, at least, that this has made you smile.   Worth the effort if it did. 
Also…
My first novel (my USA Today Bestseller "Darkness Bound") is also available at Kindle and Smashwords and Nook.
If you liked Fatal Attraction, Basic Instinct, and Body Heat, all with a spicy little dash of Story of O, this may be your cup of strong black tea. 
And it'll give you something really interesting to discuss with your significant other.