*****
You've written a book.
Everybody tells you how wonderful it is.
You agree.
Your goal is to publish it. Perhaps even launch your career as an author.
But before either of those things can happen to you, there are certain truths you need to know.
Things too many unpublished writers don't realize, understand or even accept as valid.
Truths about the market… about the competition… about the publishing business… and about your book.
If you don't grasp these truths, you may never reach your publishing goals. In fact, you probably won't. Because…
Good books get rejected every day. By the truckload.
Do you know why?
Do you know how to make sure your book isn't one of them?
Introducing an ebook that helps you make sure:
"Get Your Bad Self Published"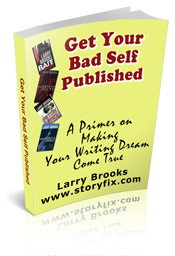 By Larry Brooks
Bestselling author and creator of Storyfix.com
Want to skip the pitch and cut straight to it?
Click HERE to buy "Get Your Bad Self Published" for only $14.95
A personal note from the author:
Dear Writer:
Getting published is very much like getting rich or losing weight. Few topics have received as much focus – especially when it comes to online products and programs – as the latter two.
We know how hard those goals are to reach. How exciting it is to start, and then how easy it is to come up short, sometimes right out of the chute.
There are no magic pills, no shortcuts, no avoiding the hard truths. The road to riches and the path to lean health is one of knowledge, self-awareness and discipline, and success depends as much on how smart you work as how hard you work.
The same is true when it comes to publishing your writing.
And yet, because there is an element of art and talent involved, the conventional wisdom in the writing community seems to focus on quality over process. On dreams instead of reality.
Fact is, there are two realms of knowledge and truth involved in the publishing equation, and a writer seeking to get into print needs to wrap their head around both of them with equal clarity.
The first has to do with writing the right book, the right way, at the right time, for the right target market. Too many writers don't get this, they just write their book their way, and because it's good – hey, everybody says it is – they fully expect a publisher to agree and take it on.
It just doesn't work that way.
Like I said above in big bold letters, good – even great – books get rejected as a matter of course. Why? Because, despite delivering a good story that's well told, it's the wrong book, written the wrong way, offered at the wrong time and in the wrong way to the wrong market.
The second realm of understanding has to do with the process of getting published. There's nothing fair about it, at times it's not even logical. And yet we're stuck with the publishing machine, and if you don't know how it works, what it expects, how to navigate it and make the most of an opportunity when it comes along – indeed, how to create that opportunity – your book won't find a home.
Or, you could publish it yourself, or use a publish-on-demand service. That's viable, but it's not going to get your book onto the shelf at Borders.
None of this should be fresh news. That said, it's hard to find clarity and insight into how one turns this awareness into a game plan that stands a chance.
That's why I've written "Get Your Bad Self Published."
I've been there. I've written novels that never landed a publisher. I've also published five novels, four by a major house, one by a print-on-demand small press. I know both sides of the publishing street, and I've been thrown under buses parked on either curb.
I also know the thrill, the complete and utter sense of satisfaction, that comes from seeing your book on a retail shelf. The goal of "Get Your Bad Self Published" is to take writers, like you, closer to experiencing that for yourself. And to do it through knowledge and strategic empowerment.
I wish you the best on that journey. May you reach your goal, and may you not need to live another decade before getting there.
Larry Brooks
September 2010
******
Want to learn more? There's no better way to show you what this book delivers than to let you see it for yourself.
Here's the Table of Contents for
"Get Your Bad Self Published"
Introduction
1. Good Isn't Good Enough Anymore
2. What qualifies as a killer idea or concept?
3. Why You Get Rejected and How to Avoid Those Deal Killers
4. Story, Story and More Story
5. What Agents and Editors are Really Looking For
6. How do we create a home run story?
7. Avoiding the Common Pitfalls
8. How To Learn How To Write a Great Story
9. Put On Your Selling Shoes
10. Pitch Perfect: The Art of Selling Your Story In Person
11. Write a Synopsis That Sells
Appendix I – Sample Query Letters
Appendix 2 – Story Synopsis Samples
Appendix 3 – Introducing the Six Core Competencies of Successful Storytelling
In "Get Your Bad Self Published" You'll learn…
How and where to land an agent.
What publishers are really looking for today.
Why most books, including really good ones, get rejected, and how to not go there.
The Dirty Little Secret that will set your book apart from the crowd.
How to adopt and leverage a publishing mindset.
How to master the selling tools required to get your work published.
How to know when your book is really ready.
Why bestsellers are different.
The Biggest Mistake new writers make, and how to avoid making it, too.
How to craft a powerful pitch, a killer query letter and a spectacular synopsis…
… using real-life examples as a model.
… and a whole lot more.
This is a book for serious writers with serious intentions. It's not a listing of agents and publishers; there are plenty of those resources out there. Rather, this is a book about enlightenment. About working smart. About leveraging what published writers already know and the vast majority of new writers don't.
It's about what will really get you published.
Are you ready to make it happen?
Order your copy of "Get Your Bad Self Published" now, for only $14.95.
About the Author, Larry Brooks:
My book, "Story Engineering: Mastering the Six Core Competencies of Successful Writing" will be published by Writers Digest Books in February 2011.
I've published five critically-acclaimed novels, four with a major NY house. My first novel, Darkness Bound, was a USA Today bestseller. My novel Bait and Switch received a starred review from Publishers Weekly, who also named it their Editor's Choice for July 2004.
That novel was later named as the lead entry in Publishers Weekly's "Best Books of 2004 – Mass Market."
My most recent novel, 'Whisper of the Seventh Thunder," won the "Best Suspense Thriller" category in the 2010 Next Generation Indie Publishing Awards.
I'm an eight-time quarter finalist, semifinalist or finalist in the prestigious Nicholl Fellowships in Screenwriting, sponsored by the Academy of Motion Picture Arts and Sciences.
In 2002, one of my scripts was named a finalist in that competition, placing in the top 10 out of 6044 submissions.
I've been teaching writing workshops around the country for the past two decades.
My website, www.storyfix.com, has emerged as one of the fastest-growing and best-reviewed writing resources on the internet.
"This is probably the clearest, cleanest, most practical piece of advice I have ever read. It is tangible and pivotal. Thank you."
– Storyfix.com subscriber
Go to Storyfix for more. You can even subscribe here, at the end of this letter.
Ready Now?
… to order "Get Your Bad Self Published" for only
$14.95
Satisfaction guaranteed.
What Larry's ebook and website readers are saying…
(*All comments shown have been submitted to Storyfix.com without solicitation or editing; sources available upon request.)
I just finished reading your book and I LOVED IT! More than loved it. It has put everything I've read and learned over the years into great perspective. It has shown me the missing elements of all the fiction classes and workshops I've taken. Most importantly of all? It showed me what my first novel needs in order to avoid being another writing project I didn't finish.
You have changed my life in 127 pages. Wow.
I'm thinking Larry Brooks should be canonized as the patron saint of writers. I consider "Story Structure – Demystified" THE most valuable book on writing a novel that I own, and I have a lot. The blog series is great – the book is superlative.
Excellent series! I only wish someone had laid it out this plainly before, instead of making it all seem like some sort of secret, mystic art that you had to be born knowing.
OMG this is SOME good revelation! Thanks!!! I always think my story is one with too many layers; thinking it can't be written well but after reading this bit I am feeling MOST encouraged…
You've got a remarkable way of explaining this in a context that I can understand.
Thanks for the inspiring posts. It's very refreshing to hear someone waxing eloquent on the need for boundaries, as opposed to the wild free-for-all I see too often.
Larry….you are wonderful! I have been looking for this type of in depth leadership and explanation for years! I am plowing through these lessons like a sprinter in the 400 meter relay. I am going to pass your site on to others. Keep giving us this great advice! Bless you!
Just read thru everything twice. Learned more than in any course, seminar, etc. ever! So grateful!
I didn't want to miss any portion of that series. I thought it was THAT good.
Larry, this is probably the most informative and educational series of blogs I've read anywhere.
You've stuffed several books-full of information into a Reader's Digest condensed version that's easy to understand, follow, and implement.
It's hard to believe, that after all those years of studying the novel in college and all the thousands of books I've read, that this structure has never jumped out at me.
This is writing advice way beyond "The Secret". This is THE SECRET!
I'm hoping folks will soon be quoting you online as often as they do Strunk and King. Solid, easy to read wisdom, yet again.
Ah Larry, this is good meaty stuff. It's telling me what my shelves of writing books never did.
This is amazing. I can only wonder where many of us would've been 10 years ago (give or take…) with your clear guidance and great instruction.
Just wanted to say that you have an amazing site here. This little nugget of gold has opened doors to writing that would've taken me years to open myself.
"Get Your Bad Self Published"
is available now for only…
$14.95
ORDER YOUR COPY NOW ! ! !
My Guarantee
Nothing – no person, no workshop, no book – can guarantee that you'll get published. That's like taking an acting class with a guarantee that you'll become a movie star.
But I am guaranteeing that you'll find my ebook valuable in your journey toward publication. Rarely is the raw truth about getting published stated this clearly, with this much empower-ment, with all of the good stuff all in one place.
If you don't like what you see in these pages, if you don't feel this ebook delivers significant value or that I've oversold it in any way, I'll refund your money. Quickly.
I wish you well in your writing journey. Thanks for considering "Get Your Bad Self Published."
Larry Brooks
September 2010
Larry Brooks
"The Storyfixer"
www.storyfix.com – e-mail me at storyfixer@gmail.com
September 2010
******
---
Check out Larry's other ebooks:
"The Three Dimensions of Character"
CLICK HERE for more information.
"Story Structure – Demystified"
CLICK HERE for more information.
"101 Slightly Unpredictable Tips for Novelists and Screenwriters"
CLICK HERE for more information.
---
Subscribe to Storyfix.com here:
You'll receive almost-daily updates that will take you deeper into the infrastructure and architecture of telling successful stories.